Introduction
My Vocabulary Builder is a software which help to users at adding new words to theirs vocabularies. It can be uses by any language (spanish => englihs, frech => english, chinese => english,..). Also, you can export your vocabulary to a text file so you can memorize your english vocabulary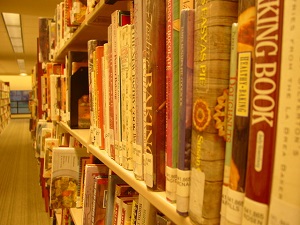 User Interface: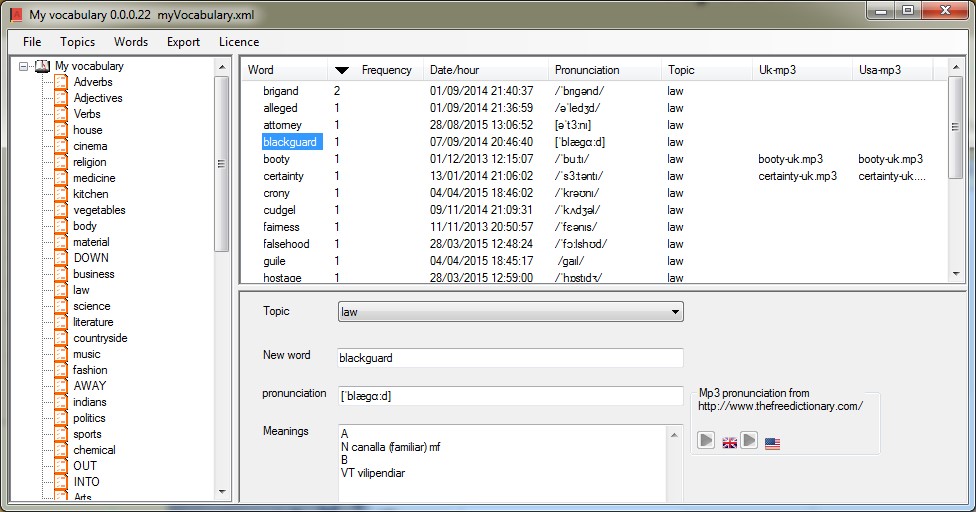 The main features are:
Add new words very quickly through & quot; copy & amp; paste & quot ;. Not only all its meanings, but it, and the word audio through existing online dictionaries on the Internet.

Arrange the vocabulary by topics created by the user

Export all the vocabulary or topic, to a text file.

Order the words by the number of times they have introduced, by creation date, ...

Not limited only to English, it can also be used to build a vocabulary in other languages (Japanese, Chinese, German, ..)

Boost Long Term Memory:
A show based on the user to remember vocabulary, vocabualrio power over short-term memory to long-term memory

If there is some functionality that is important, please let us know.
Using your smartphone for studying your OWN vocabulary
The smartphone always is going with us. So, why do not we used it for studing and remaindering our own vocabulary?. To do that, the smartphone could launch a notificacion for reamindering a word of our vocabulary each 60 minutes. And this is what ReminderMyVocabulary does.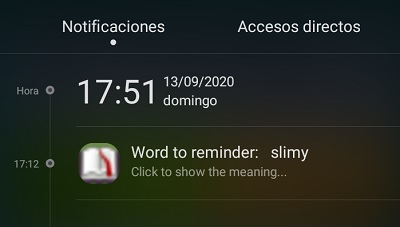 And before clicking in the notification, we try to remainder the word. When we click, ReminderMyVocabulary will show us the meaing of the word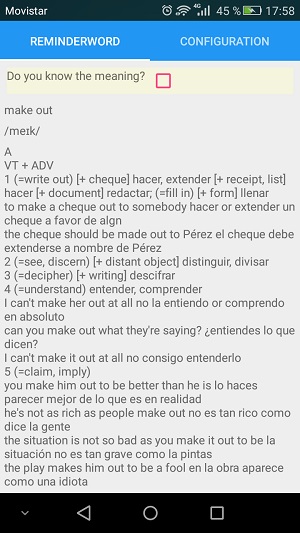 So, if we have remaindered the word, we check the box "Did you know the meaning?". In this way, the app will not try to remainder us again the word.
ReminderMyVocabulary
Toda la funcionalidad indicada anteriormente la realiza la aplicacion:
All this functionality you can find in ReminderMyVocabulary
You can download from the Play Storehere
How load our own vocabulary into our smarthphe?
For loading our vocabulary, which we have built with the app MyVocabularyBuilder, into the smartphone we will follow this steps:
1.- Connect the smartphone to the personal compputer through USB port
2.- Copy the file 'myVocabulary.xml' to any folder (external sdcard is recommended) of your smartphone.
3.- Disconnected our smartphone from the USB port.
4.- Launch the app 'ReminderMyVocabulary'
4.1.- Click on the bottom 'Configuration'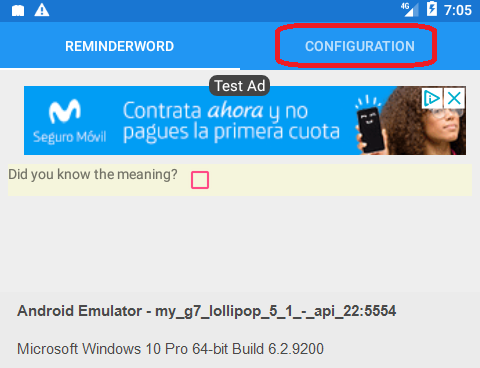 4.2.- Click on the bottom 'Select a Vocabulary File(*.xml)' and we will find the file that we just copy from our PC to our smartphone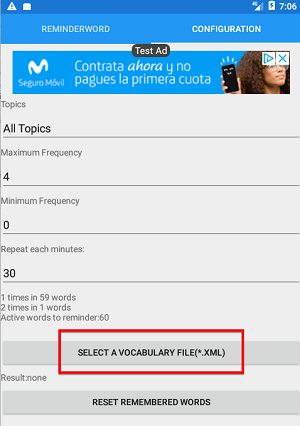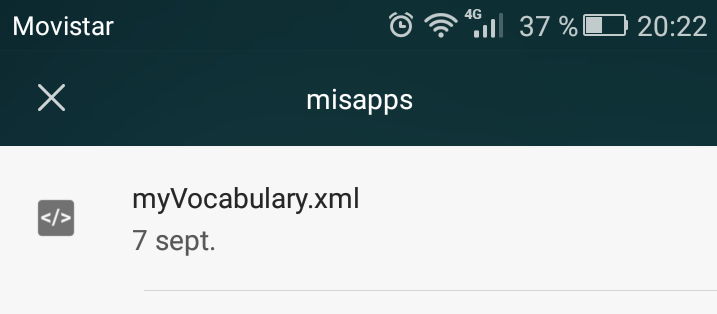 5.- And if we can see on the screen 'Loaded new vocabulary SUCCESS!!', our own vocabulary is just loaded!! :-)